---
School Community Council
The next School Community Council meeting will be held on November 10, 2022, at 6:00 pm. The agenda can be found below.
Parent Teacher Conferences
Hawk Nation
We are excited to announce Hidden Valley Middle School 2022 Hybrid Parent Teacher Conferences. Conferences will be held on September 28th and 29th. Important details can be found below:
Wednesday, September 28, 2022: Virtual conferences will be held from 4:00-7:30 pm. Virtual meetings can be accessed at:
Virtual Parent-Teacher Conferences
Thursday, September 29, 2022: The school will be open for in-person conferences from 4:00-7:30 pm The nurses from CNS Immunization Clinic will be available during this time for flu shots. Please bring insurance cards and photo ID if applicable.
If these times do not work for your family, please feel free to email teachers with questions or concerns.
Picture Retake Day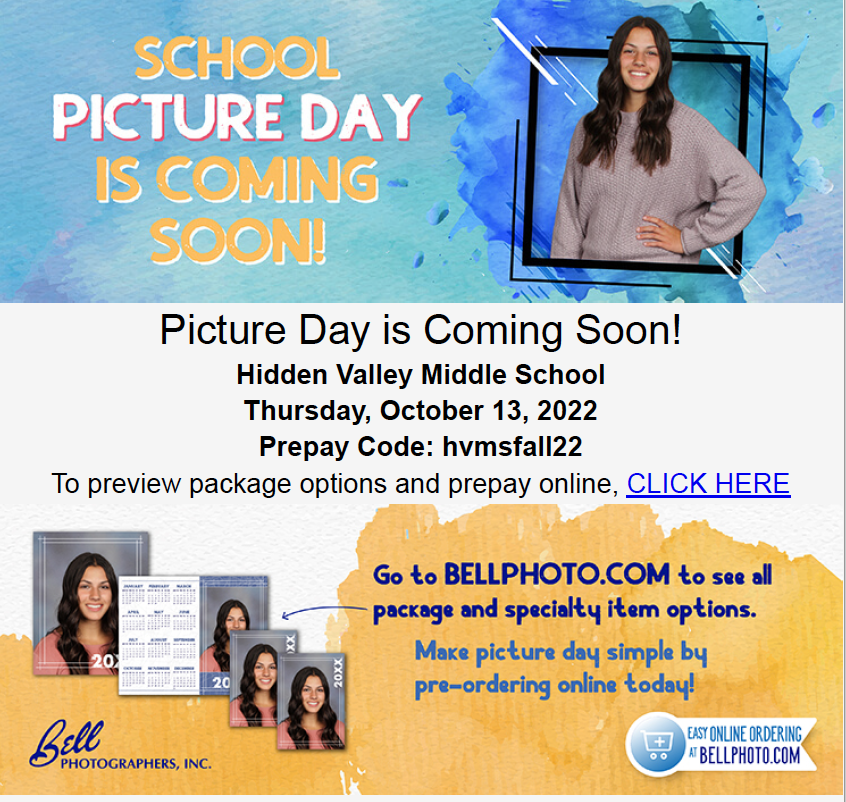 Reflections
Students interested in participating in the 2022-23 PTSA Reflections Program, the information flyer is attached.
This year's Theme is – Show Your Voice
Entries can be submitted in the following categories: Literature, Photography, Visual Arts, Dance Choreography, Film Production, and Music Composition.
All entries are submitted online at utahpta.org/ref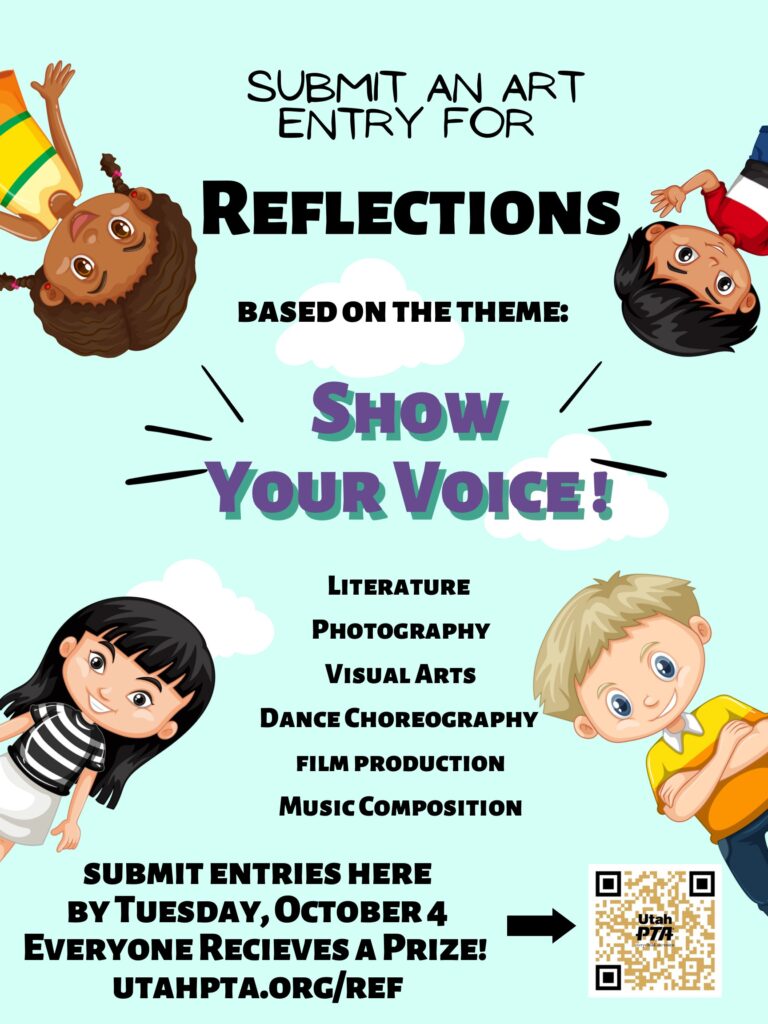 Student Survey
Hawk Nation,
We thank you and your family for being our valued partners as we work together to educate the children in our school. HVMS values input from our community – and we need to hear from your child or children! Students are important partners as we work to improve our communication, academic program, and overall experience for everyone.
To learn more about student experiences at school, we will be asking for your child's feedback via an online survey that will be completed at school. The survey shouldn't take more than 15-20 minutes to complete.
The survey content will ask students to self-reflect on topics such as self-management, social awareness, and self-efficacy.
Please notify us if you would like your child to opt out of taking the surveys by filling out the form below.
Survey questions can be found at the following link
Picture Day is Sept. 8, 2022
Our prepay Code: hvmsfall22 To preview package options and prepay online, CLICK HERE
Registration Opens July 25, 2022
Online registration begins on Monday, July 25, 2022. All students attending HVMS must complete online registration, pay fees and print their student schedule. In order to print your student's schedule at the time of registration, all fees must be paid in Skyward. Fee waivers are available at this link:
School Walk About: August 3-4, 2022
Parents and students are welcome to "Walkabout" the building on August 3, and 4 from 10:00 am - 12:00 pm. This is an excellent opportunity for students to tour the building and find classes. Teachers will not be available during this time.
Immunization Clinic
For students needing immunizations to attend 7th grade, the CNS Immunization Caravan will be in the main lobby of HVMS on August 10, from 9:00 am to 12:00 pm.
7th Grade Orientation
Orientation for our incoming 7th- grade students on Wednesday, August 17, 2022, from 8:00 am- 12:00 pm. This is a half-day for 7th Grade students only. Students will have the opportunity to attend every class on their schedule, meet their teachers, and learn all about middle school. Buses will be running at regular times for morning pick-up. You can check your Skyward Family Access under Busing to determine your bus stop and pick-up/drop-off times.
Back to School Night August 17, 2022
Back-to-school night will be held in person at HVMS on Wednesday, August 17, 2022, from 5:00 to 7:00 pm. We will begin in the auditorium for a brief information meeting at 5:00 pm. The remainder of our back-to-school night will be an "open house" where parents and students can meet teachers and get information about classes. Teachers will be available in classrooms from 5:30 pm - 7:00 pm. Food trucks will be on-site throughout the Back-to-School Night hours.
First Day of Classes for All Students August 18, 2022
Thursday, August 18, 2022, is the first day of classes for all students. School begins at 8:00 am and will dismiss at 3:00 pm. Please check Skyward Family Access under Busing to determine your bus stop and pick-up/drop-off times.
Federal Lunch Program 2022-23
The federal government is ending USDA free meals for all students next school year. Jordan School District meal pricing for the 2022-23 school year is NOT increasing from the 2019-2020 school year. If needed, you can apply for free/reduced meals. See details below.
Parentguidance.org
Are you worried about your child?
We offer education and therapeutic support to empower and give you hope as you support your child's mental health.
Our library of courses developed by leading mental health experts offers much hope, many answers, and compassionate help.
Visit parentguidance.org
School Community Council
The agenda for School Community Council meetings can be found at the following link
You may join in person or via Zoom
5 Crucial Elements of a Healthy Family Culture