---
HVMS Spirit Wear and Gear
Click on image to view our online spirit wear store. Or go to 1stplace.sale/106898.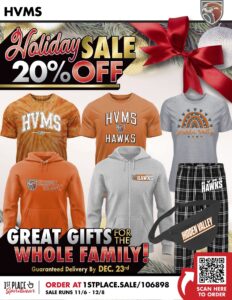 School Picture Orders
Go to bellphoto.com or click here to preview package options and pay online.
Important Back to School Info:
Fee Waiver Info
Fee waivers are available on our home page and in the main office. Please note, individual class fees will be added two weeks after school begins.
Fee waiver applications are available at these links:
Fee waiver application (English)
Fee waiver application (Spanish)
Immunization Requirement Info
Immunization requirement information can be found at the following website https://nursingservices.jordandistrict.org/immunization-requirements/ or by clicking on the links below:
Immunization Requirements for 7th Grade Entry 2023-2024 (English)
Immunization Requirements for 7th Grade Entry 2023-2024 (Spanish)
School Community Council
If you are interested in participating in the HVMS School Community Council, please complete an application form and turn it in to the HVMS Main Office. Application forms are available in the Main Office or at the following link.
School Breakfast and Lunch
Hidden Valley Middle School serves breakfast and lunch each day. Breakfast is served from 7:30 am to 7:55 am at a cost of $1.25. Lunch is served daily at a cost of $2.25 for the first lunch and $4.10 for any additional lunch purchased. Breakfast/lunch money can be paid in Skyward or in the main office. Free and Reduced Lunch applications are available on our website and in the main office. Applications on the website are located under "School Info" in the "Lunch Menu and Information" section. 
Lockers
Hallway lockers will be issued for the 2023-24 school year. Student's assigned locker and combo will be printed on their class schedule. Locker combinations should never be shared. For those who do not use a locker, a backpack is strongly encouraged and should be kept with the student at all times.
Parentguidance.org
Are you worried about your child?
We offer education and therapeutic support to empower and give you hope as you support your child's mental health.
Our library of courses developed by leading mental health experts offers much hope, many answers, and compassionate help.
Visit parentguidance.org
5 Crucial Elements of a Healthy Family Culture